HOME > Blogs
CNC machined parts with texture and hard chrome
CNC Machined Mold Components
Material
1.2767, Hardened to 48-52 HRC
Quantity
2 pcs.
Mold Life
1,000,000 Shots
Parts Used for
Automotive Plastic Injection Molds
(Auto Number Plate Making
Lead time
18 Days
Parts Exported to
Spain
A CNC machined parts made in Realhao Industrial was required to make MT 11006 texture on the surface. MT 11006 is a common texture designed by Mold-Tech. It has been used for plastic injection molds, mold components, CNC machined parts etc. We can ask them to make this texture on the machined parts in the branch factory in Dongguan, China. But the problem is the customer want to coat the machined metal parts with chrome after making texture. This is a big problem. Because MT 11006 is a kind of very light texture. The depth of the texture is only 0.027mm. And the thickness of the chrome coating is minimum 0.01mm. Will the texture be affected by chrome coating? No body know it because never tried it. We asked the customer that they confirmed the machined mold parts must be made with texture and coated with chrome. But we dare not to make the texture on the CNC machined parts and coat it with chrome directly.
Resolutions: Make two samples to test it.
After discussing the technology problems for machined parts, we machined two small plates with same material as the machined parts. And asked the Mold-Tech Dongguan to make sample for us. Please see the following picture. The texture on the machined parts are too light. Now we are going to send it out for chrome coating.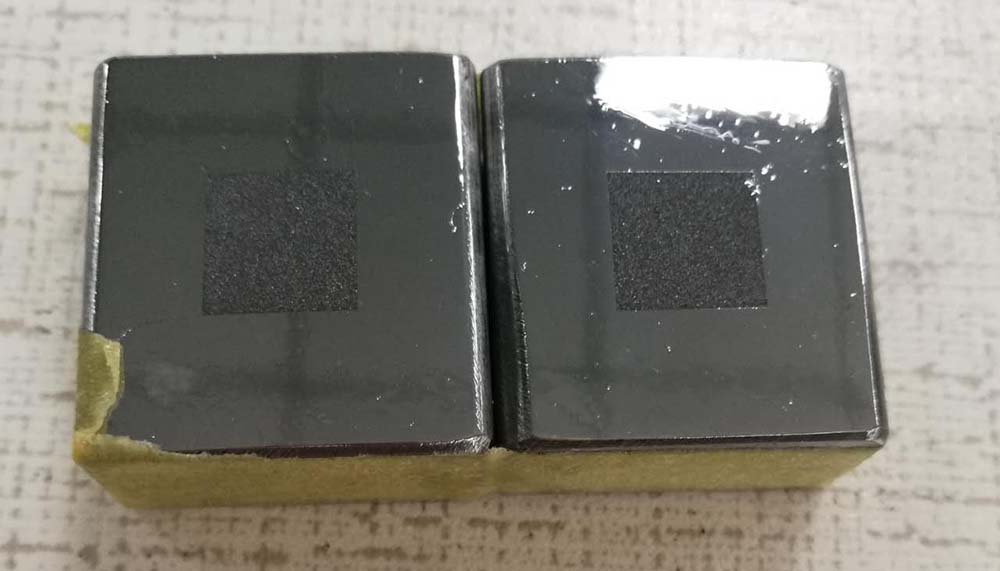 Why do we need to make two small machined metal plates to test it? That is because we need to compare the machined metal plates with or without chrome. We could not find out the difference between them without compare.
CNC Machined Parts with MT 11006 Texture and Coated with hard chrome.
Samples of CNC machined parts with texture and chroming were finished. The depth of the chrome is 0.01mm. It is very thin. And the color of the texture is more white than the flat area. The surface treatment is very good. Now we are going to make texture on the machined parts and chrome it.